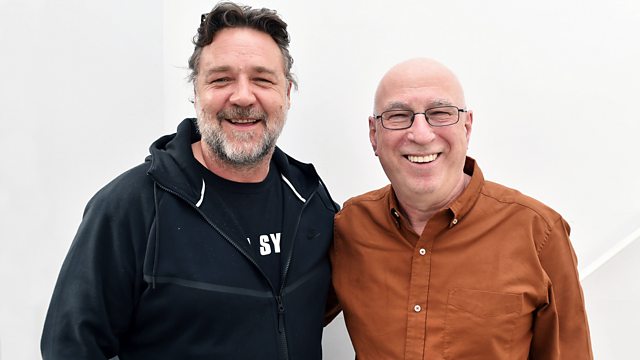 Russell Crowe chooses the Tracks of My Years
Russell Crowe, Oscar-winning actor, film producer and musician, chooses the Tracks of My Years with music from The Boomtown Rats and Johnny Cash. Although a New Zealand citizen, he has lived most of his life in Australia. He came to international attention for his role as the Roman General Maximus Decimus Meridius in the 2000 epic film Gladiator, directed by Ridley Scott, for which Russell won an Academy Award for Best Actor, a Broadcast Film Critics Association Award for Best Actor, an Empire Award for Best Actor and a London Film Critics Circle Award for Best Actor and no less than ten further nominations for best actor. Russell also appeared as the tobacco firm whistle blower in the 1999 film The Insider for which he received five awards as best actor and seven nominations in the same category. In 2001, Russell's portrayal of mathematician and Nobel Prize winner John F Nash in the biopic A Beautiful Mind brought him numerous awards, including a BAFTA Award for Best Actor in a Leading Role, a Golden Globe Award for Best Actor in a Motion Picture Drama and a Screen Actors Guild Award for Outstanding Performance by a Male Actor in a Leading Role. His other films include Romper Stomper (1992), L.A. Confidential (1997), Master and Commander: The Far Side of the World (2003), Cinderella Man (2005), American Gangster (2007), State of Play (2009), Robin Hood (2010), Les Miserables (2012), Man of Steel (2013) and Noah (2014). He is also the co-owner of the South Sydney Rabbitohs, an Australian National Rugby League team.
The Hollywood star always maintains he was a musician long before he started serious acting, first with his band TOFOG and in various other incarnations over the years. His latest musical project is a band called Indoor Garden Party featuring himself, Alan Doyle, Samantha Barks, Scott Grimes and Carl Falk. They released their debut album 'The Musical' in June of this year.
Ken also has the daily love song, record and album of the week plus PopMaster. If you'd like to get in touch with the show email Ken.Bruce@bbc.co.uk.
Last on