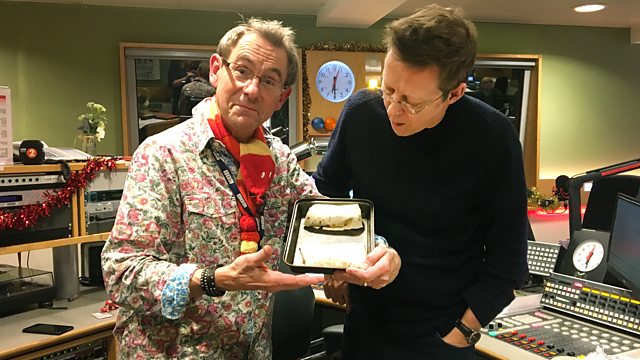 Turkey Burritos, Night Jogging Confession, Sheep Scanning
Turkey Burritos with Salsa is the first of our 'Festive Foodie Thursday' offerings from resident cook Nigel Barden, with a festive themed dish each Thursday through December.
Last on
Turkey (or Chicken) Burritos with Pico de Gallo Salsa
by Rick Stein from Rick Stein's The Road to Mexico (BBC Books)
As much as I bang on about the wonderfulness of corn tortillas, flour ones do have their place. They are much better for bigger fillings like this one, and the gluten content in the flour makes for a proper wrap.
 NB.  Nigel's adapted Rick's dish by using turkey thighs instead of chicken, boneless and with the skin on, but you can use either with the bone in, just make sure it's properly cooked through.  Also, Nigel says if you're using left-over turkey, you can simply warm it up, but suggests putting it in the marinade for a couple of hours and then sautéing in the pan briefly, with a couple of tablespoons of the marinade.  There's no need for any further cooking.
Serves 4
Prep time: 1-2 hours
Cooking time: 10 to 30 mins
Ingredients
For the turkey or chicken
2 limes, juice only
2 garlic cloves, crushed
4 tbsp olive oil
1 heaped tsp dried or fresh oregano
1 tsp chilli flakes
1 tsp brown sugar
2 large turkey thighs (or 4 chicken thighs), boneless, skin on or off
flaked sea salt and freshly ground black pepper
For the chipotle crema
2 tsp chipotle en adobo paste (or chipotle paste)
2 tbsp soured cream
2 tbsp mayonnaise
1 lime, juice only
For the pico de gallo salsa
2 large ripe tomatoes, deseeded and finely chopped
½ onion, finely chopped
handful fresh coriander, roughly chopped
1 green serrano or jalapeno chilli, finely chopped
1 lime, juice only
For the guacamole
1 green jalapeno or serrano chilli, deseeded and finely chopped
½ small onion, finely chopped
1 large ripe avocado, stone and skin removed
1 lime, juice only
small handful fresh coriander, roughly chopped
To serve
150g/5½oz long-grain white rice
4 large flour tortillas
4 tbsp freshly grated mozzarella
4 tbsp soured cream
½ Little Gem lettuce, shredded
Method
To make the chicken (or turkey), mix the lime juice, garlic, oil, oregano, chilli,
sugar and salt and pepper together in a large bowl. Add the chicken (or turkey),
cover and place in the fridge for at least 2 hours.
Meanwhile, to make the chipotle crema, mix the chipotles en adobo,
soured cream and mayonnaise with a squeeze of lemon juice and a
pinch of salt and set aside.
To make the pico de gallo salsa, mix all the ingredients together with ½
teaspoon of salt in a bowl and set aside.
To make the guacamole, pound the chilli in a pestle and mortar with
the onion and ¼ teaspoon of salt, into a lumpy paste. Add the
avocado and break up the flesh roughly with a fork. The result
should be lumpy not smooth. Stir in the lime juice, to taste, and the
chopped coriander.
Place a frying pan over a high heat and cook the chicken (or turkey) thighs,
without the marinade, until browned and sealed. Add the marinade
to the pan, cover with a lid and cook for 10–15 minutes, or until the
chicken (or turkey) is cooked through as the juices run clear. Slice the chicken (or turkey) into strips.
Meanwhile, cook the rice according to packet instructions.
Divide the tortillas between four plates and top with the rice,
chicken, sauces, mozzarella and lettuce. Fold up the bottom of each
tortilla, then fold the sides in and roll to contain the filling. Cut in
half to serve.
…For a veggie version Nigel used halloumi instead of turkey.